100% EFFICIENT LOW-ENERGY HEATING FROM NORWAY

'Intelligent' carbon-polymer elements heat the ENTIRE floor surface, automatically self-regulating to maintain a constant temperature in the most energy-efficient way possible.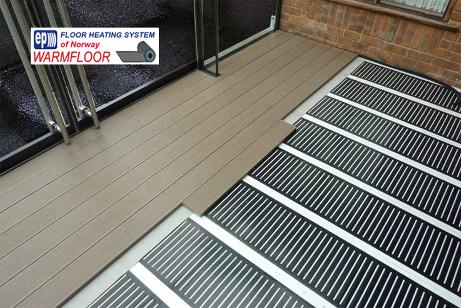 HOW EFFICIENT?

100% efficient.

Simply the most cost-effective system on the market today, with savings of up to 60% compared to conventional heating systems, and absolutely NO maintenance costs.

WHERE CAN I USE IT?
Anywhere.
As the elements are only just over 1mm thick they can be fitted under ANY floor covering without major upheaval - carpets, laminates, tiles, parquet, boards, slabs... whatever.
It can be used to heat a single room in your house, or an entire industrial building. It is just as effective in a greenhouse or a caravan as it is in heating a hospital or a luxury hotel.

IS IT SAFE?
Totally.
Running at only 24 volts it is completely safe even for wet areas or in the event of accidental damage. It is the ONLY underfloor heating system which can be safely used directly under carpet, and the self-regulating elements mean that there is no possibility of ever overheating.

IS IT GREEN?
Completely.
No waste, no fumes, no dust, no mess & every part of the system is either water-based or completely re-cycleable and made from recycled materials.

CAN IT BE USED AS MY MAIN CENTRAL HEATING SYSTEM?
Absolutely.
EPWarmfloor is the perfect choice as a primary heat source in a room, a house or in large commercial building. Most underfloor heating systems in the past have relied on inefficient cables, or water pipes, and frankly have been expensive to install and most inflexible in where and how they could be used, due to their bulk and high running costs.
EPWarmfloor provides an even and energy-efficient heat wherever it is used, under any surface and at any scale.
IF IT'S SO GOOD - WHY DOESN'T EVERYONE ALREADY USE IT?
EpWarmfloor is new to the UK but is a market leader in Scandinavia: in Norway 90% of homes use radiant underfloor heating. I expect you are beginning to see why!
WELL OKAY - SO WHAT IS IT?
EP Warmfloor low voltage heating element is a durable, yet thin (1.2mm) element. This 34cm wide element is made of a homogeneous, semi-conductive polymer, which by nature is self-regulating. This self-regulating technology (PTC nano-technology) allows the elements to heat with maximum power in cold environments and use less electricity as they warm up.
The elements can be installed directly under any floor covering and require almost no floor buildup enabling the elements to react quickly to temperature changes. When installed, the 34cm wide elements cover over 60% of the floor and provide an efficient and even heat distribution. This minimizes power consumption and reduces your heating cost by 30 to 60% compared to conventional heating systems.
With EPWarmfloor as a heat source you can individually heat different areas to the desired temperature with a thermostat, but the because the element is self-regulating at the molecular level, even this isn't always necessary as the system will keep the room temperature at a comfortable level itself automatically.
To find out more about how our intelligent underfloor heating systems work